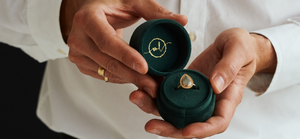 Our custom ring process starts organically, with you.
Work side by side with Meg, a certified gemmologist, as she personally guides you through her custom design process, enriching your journey with the science behind gemstones and the visionary traditions of handcrafted jewellery.
Capture your story
Share your vision with Meg at your first complimentary consultation. Bring your own inspiration pictures or ask her about a certain stone. She'll show you everything you need for your next steps.
Select a gemstone
See your curated selection of gemstones in person at Meg's Studio, or arrange a virtual showing for your one-on-one Gemstone Consultation. You'll learn about their rarity, natural formation, ethical sources, and how their uniqueness can complete your vision.
Experience your design
Keeping your inspirations and vision in mind, Meg's hand sketches or 3D renderings will show you how your chosen gemstone will be brought to life in the ring. After finalizing the design with her, you'll be handed an exact prototype before she begins to craft your perfect ring.
Bring it home
In around 8 weeks, your custom ring will be ready for pick-up at Meg's Studio or carefully delivered to your door. Open Meg's Signature Velvet Box with joy!
Know Your Stone, Inside and Out
Design your own treasure knowing exactly how your gemstone was birthed, how it travelled from the mines, and how it ended up in your hands. Working with Meg, a certified gemmologist and jewellery appraiser, you'll learn every detail about the stones' scientific formation and how their natural features make up their value and beauty.
Ethical From Start to Finish
Dedicated to transparency and sustainability, every stone at Meg's Studio is ethically sourced from her trusted network of established dealers. Additionally, a portion of all purchases are donated to Workman Arts, a multidisciplinary arts organization supported by the Centre for Addiction and Mental Health (CAMH). Meg also donates to Gem Legacy, a non-profit organization which supports training, entrepreneurship and community development in East African artisanal gem-mining communities.
Your Design Partner
When you work with Meg, you're getting a decade of experience in handcrafted jewellery with an industry leader. Her work has been featured in prominent jewellery publications, including Wedluxe and Today's Bride. Meg's background as an artist, goldsmith and gemmologist ensures every step of her custom design process is fun, informative, and perfectly tailored to your vision.
Create Your Ring With Meg